Model NO.: S Double Suction Water Pump

Position of Pump Shaft: Horizontal Pump

Pump Casing Combined: Horizontal Split Pumps

Mounting Height: Suction Centrifugal

Impeller: Closed

Usage: Pump

Drive: Electric Motor/ Diesel Engine

Voltage: 220V/380V/410V/460V/High Voltage

Frequency: 50Hz/60Hz

Color: as Customer Required

Warranty: Within 1 Year

Application1: Agricultural Irrigation

Application2: Dewatering and Process Water

Application3: Municipal Water Supply

Application4: Environmental Protection

Application5: Mine Water Supply and Drainage

Trademark: DEPON

Transport Package: Plywood Cases/ as Customer Required

Specification: 150S-50 ~ 800S-76B

Origin: China

HS Code: 8413709990

Model NO.: S Double Suction Water Pump

Position of Pump Shaft: Horizontal Pump

Pump Casing Combined: Horizontal Split Pumps

Mounting Height: Suction Centrifugal

Impeller: Closed

Usage: Pump

Drive: Electric Motor/ Diesel Engine

Voltage: 220V/380V/410V/460V/High Voltage

Frequency: 50Hz/60Hz

Color: as Customer Required

Warranty: Within 1 Year

Application1: Agricultural Irrigation

Application2: Dewatering and Process Water

Application3: Municipal Water Supply

Application4: Environmental Protection

Application5: Mine Water Supply and Drainage

Trademark: DEPON

Transport Package: Plywood Cases/ as Customer Required

Specification: 150S-50 ~ 800S-76B

Origin: China

HS Code: 8413709990

Belt Driven High Flow Centrifugal Water Pump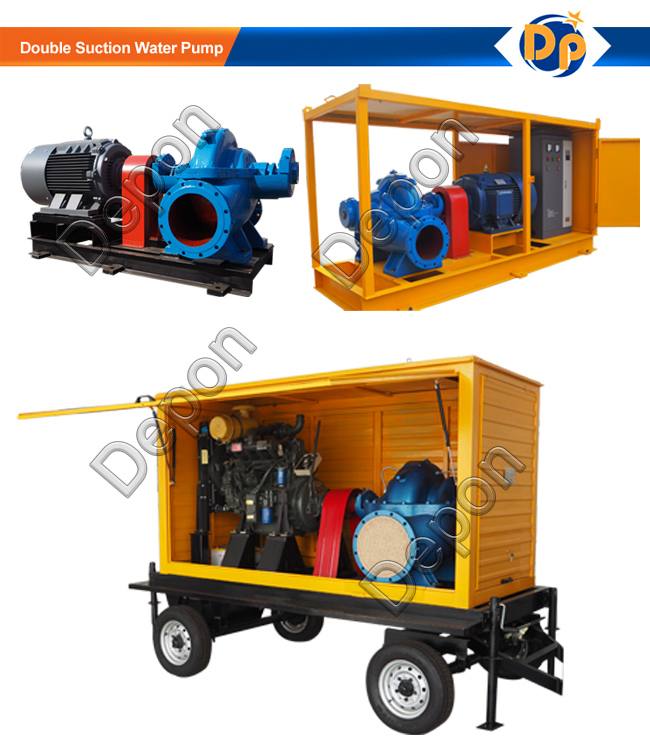 Introduction

The S series pumps are single stage, double suction; horizontal split case pumps designed for high volume water transfer in a wide range of applications. Centurion pumps are available in 43 sizes ranging from 80mm to 400mm discharge and capable of capacities up to 4000 cubic meters per hour and heads up to 160 meters. Centurion pumps offer ease of maintenance with simple assembly/disassembly (no requirement for special tools). All major wear components and replaceable parts are easily accessible and can be changed out with minimal effort and downtime, without removing the suction and discharge piping.

Features

*  Adopts horizontal, vertical axis medium open type double pump shell structure, lining for cemented carbide or rubber has    good wear-resisting, corrosion resistance and high reliability.

*Â Â High efficiency hard alloy, and low NPSH

*  To meet the different operation conditions, adopted the brief type structure bearing parts, selected high bearing capacity    design, alloy bearing grease lubrication oil.

*Â Â Through adjusting the clearance between protection board and impeller, ensuring the pump efficient operation

*Â Â Using packing seal, impeller sealing, and container type mechanical seal to adapt to different operating mode requirement.

Pump and drive can choose straight league transmission, triangle, hydraulic transmission device coupled transmission, reducer drive.

*Â Â The outflow direction can be installed by eight Angle rotation to adapt to different site installation condition.

Available to use multiple series, to satisfy the long-distance transmission requirements

Technical Data
| | |
| --- | --- |
| Pump Outlet: | 80-800mm |
| Capacity: | 60-11,600m3/hr |
| Head: | 7-200m |
| Temperature: | Max. 105ºC |
| Max. Working Pressure: | 25 bar |
| Max. solids content: | 80mg/L |
Application

* Fire Protection

* Water Transfer

* Municipal Water Supply

* Irrigation

* Industry

* Process Water

* Raw Water Supply

* Dewatering (Clean Water)

* Flood Mitigation

Model MeaningE.g. 

250 SÂ - 39 A

250 -Â Pump's inlet diameter

S -Â single-stage double-suction centrifugal pump

39 -Â rated head

A -Â impeller cut for the first time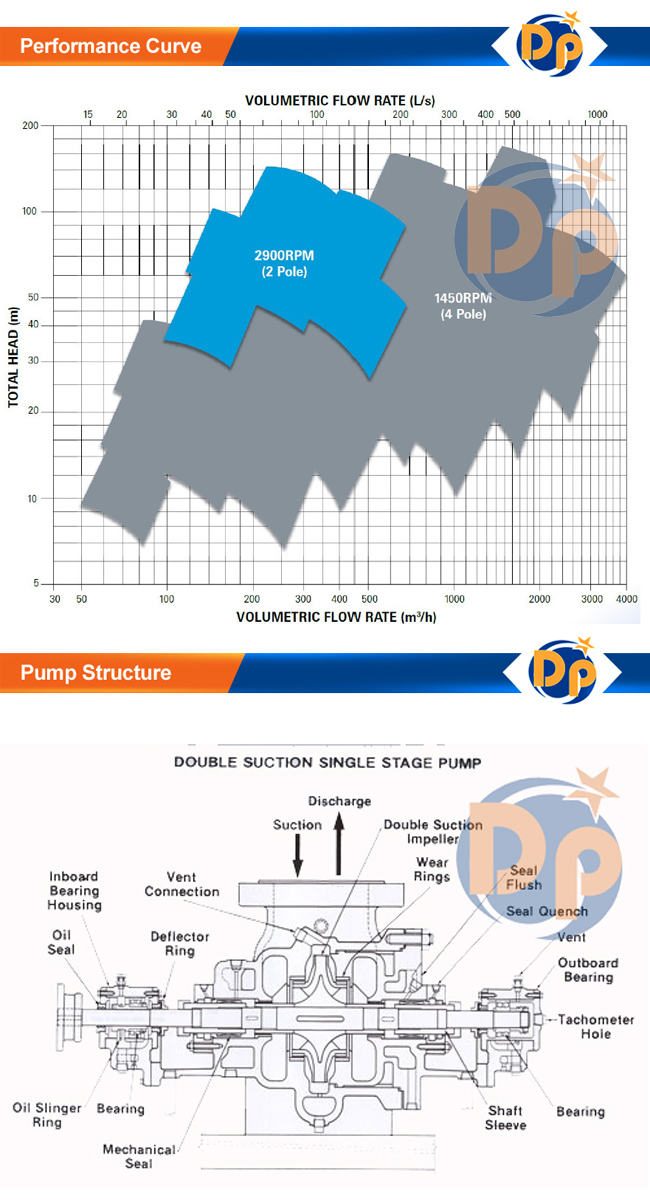 Pump Performance

 
Pump Model
Capacity
 (m3/h)
Head(m)
Motor Power 
(kw)
Speed 
(rpm)
NPSHÂ 
(m)
150S-50
160
50
37
2950
3.9
150S-78
160
78
55
2950
3.7
200S-42
280
42
45
2950
6
200S-95
280
95
132
2950
5.3
250S-14
485
14
30
1450
3.8
250S-65
485
65
132
1450
3.1
300S-90
790
90
315
1450
4.2
350S-125
1260
125
710
1450
5.4
400S-90
1620
90
560
1450
6.2
500S-59
2020
59
450
970
4.5
600S-75
3170
75
900
970
6
800S-76
5500
76
1600
730
6
800S-76
4400
49
800
585
4.2
Construction Material

S type pump could supplied in Cast iron, Ductile iron, Stainless steel material.
Part Description
Cast Iron
Ductile Iron
Stainless Steel
Casing
AS1830/T260
AS1830/300-17
AS2074/H6B
Shaft
AS2837/420
Impeller
AS2074/H6B
AS1830/300-17
AS2074/H6B
Shaft Sleeves
AS2074/H6B
Lantern Ring
AS1565/ALLOY 836B
AS1830/T260
AS2074/H6B
Gland
AS1830/T260
AS2074/H6B
Wearing Ring
AS2074/H6B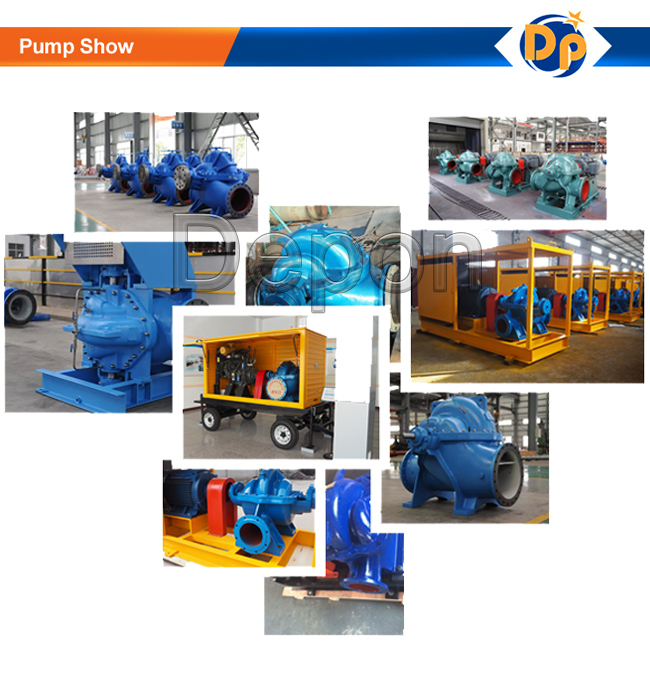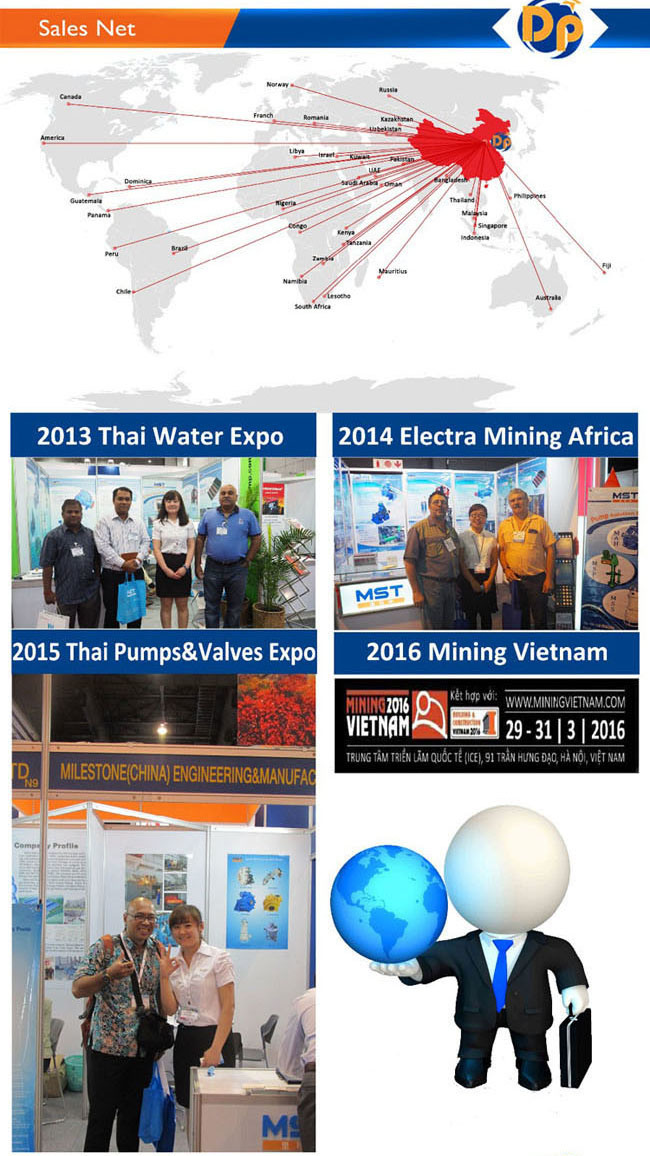 FAQ

A: What kind of company you are?
Q: Shijiazhuang Depon Pump Company is professional manufacturer in pumps. After accumulation and development of many years, we have formed a complete system of pump design, selection, application, manufacture, marketing and maintenance. We have passed CE, SGS certificate. Our customers are at home and abroad. Hope to coorperate with the worldwide friends. 

Q: What's your MOQ?
A: Trial sample order is OK.
 
Q: What are your payment terms?
A: T/T, L/C, D/P, D/A or as customer required
 
Q: How about the warranty?
A: One year warranty for pumps, it depends on other pump working condition details.
 
Q: What is the delivery time?
A: 7-30 days according to customer quantities.
 
Q: Can you do OEM brand?
A: Yes, Welcome.
 
Q: What information should IÂ offer to get pump solution?
1, Head:Â Â Â Â Â m
2, Flow:Â Â Â Â m3/h
3, Max Solid size:Â Â Â Â mm
4, Particle shape (smooth or sharp):
5, Medium pH level:
6,Specific Gravity of the Medium:
7, Temperature:
8, Drive type:
9. Power supply: Electric or Dlesel
10, Voltage and Frequency of the Motor:Â 


Welcome inquiry! 
Contact:Â 
Mob: +86 158 3083 2057
Tel: +86 312 8929296
Fax: +86 312 3085383
 
 

 

Belt Driven High Flow Centrifugal Water Pump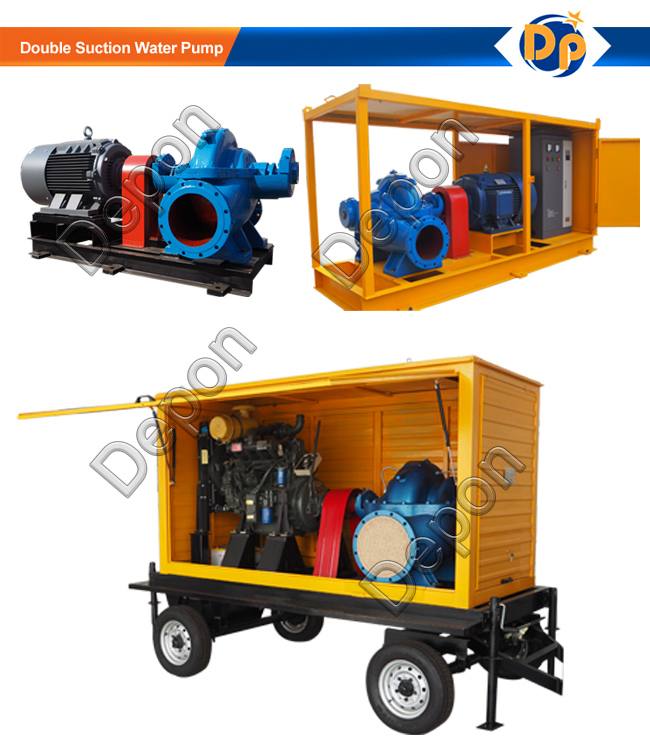 Introduction

The S series pumps are single stage, double suction; horizontal split case pumps designed for high volume water transfer in a wide range of applications. Centurion pumps are available in 43 sizes ranging from 80mm to 400mm discharge and capable of capacities up to 4000 cubic meters per hour and heads up to 160 meters. Centurion pumps offer ease of maintenance with simple assembly/disassembly (no requirement for special tools). All major wear components and replaceable parts are easily accessible and can be changed out with minimal effort and downtime, without removing the suction and discharge piping.

Features

*  Adopts horizontal, vertical axis medium open type double pump shell structure, lining for cemented carbide or rubber has    good wear-resisting, corrosion resistance and high reliability.

*Â Â High efficiency hard alloy, and low NPSH

*  To meet the different operation conditions, adopted the brief type structure bearing parts, selected high bearing capacity    design, alloy bearing grease lubrication oil.

*Â Â Through adjusting the clearance between protection board and impeller, ensuring the pump efficient operation

*Â Â Using packing seal, impeller sealing, and container type mechanical seal to adapt to different operating mode requirement.

Pump and drive can choose straight league transmission, triangle, hydraulic transmission device coupled transmission, reducer drive.

*Â Â The outflow direction can be installed by eight Angle rotation to adapt to different site installation condition.

Available to use multiple series, to satisfy the long-distance transmission requirements

Technical Data
| | |
| --- | --- |
| Pump Outlet: | 80-800mm |
| Capacity: | 60-11,600m3/hr |
| Head: | 7-200m |
| Temperature: | Max. 105ºC |
| Max. Working Pressure: | 25 bar |
| Max. solids content: | 80mg/L |
Application

* Fire Protection

* Water Transfer

* Municipal Water Supply

* Irrigation

* Industry

* Process Water

* Raw Water Supply

* Dewatering (Clean Water)

* Flood Mitigation

Model MeaningE.g. 

250 SÂ - 39 A

250 -Â Pump's inlet diameter

S -Â single-stage double-suction centrifugal pump

39 -Â rated head

A -Â impeller cut for the first time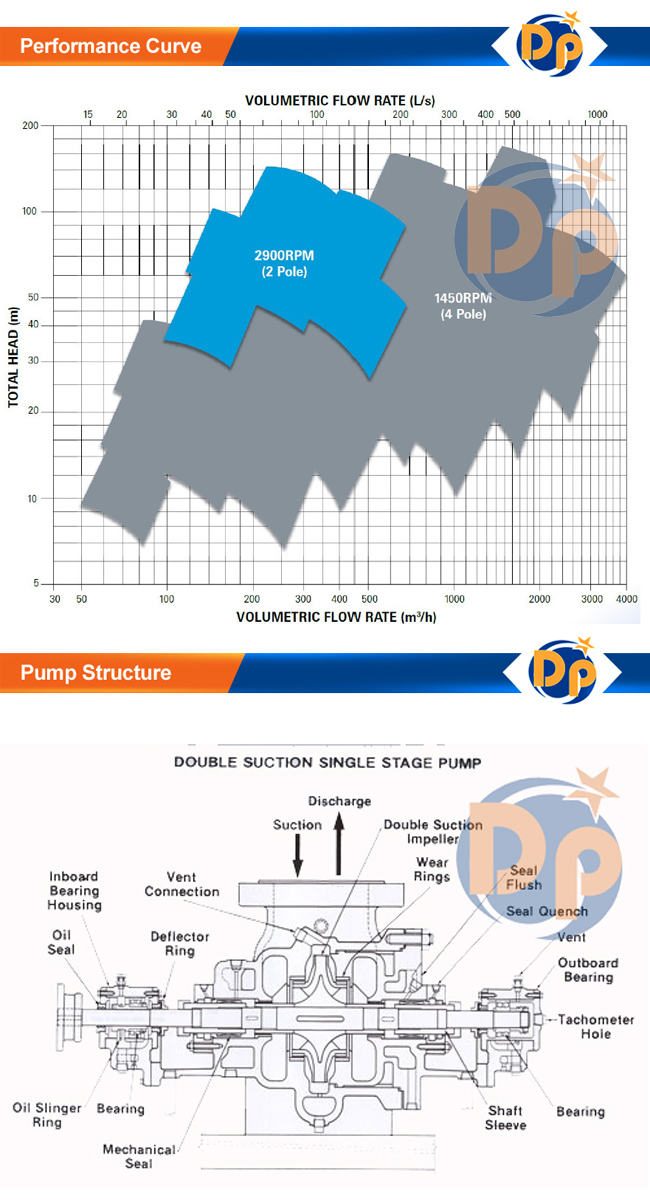 Pump Performance

 
Pump Model
Capacity
 (m3/h)
Head(m)
Motor Power 
(kw)
Speed 
(rpm)
NPSHÂ 
(m)
150S-50
160
50
37
2950
3.9
150S-78
160
78
55
2950
3.7
200S-42
280
42
45
2950
6
200S-95
280
95
132
2950
5.3
250S-14
485
14
30
1450
3.8
250S-65
485
65
132
1450
3.1
300S-90
790
90
315
1450
4.2
350S-125
1260
125
710
1450
5.4
400S-90
1620
90
560
1450
6.2
500S-59
2020
59
450
970
4.5
600S-75
3170
75
900
970
6
800S-76
5500
76
1600
730
6
800S-76
4400
49
800
585
4.2
Construction Material

S type pump could supplied in Cast iron, Ductile iron, Stainless steel material.
Part Description
Cast Iron
Ductile Iron
Stainless Steel
Casing
AS1830/T260
AS1830/300-17
AS2074/H6B
Shaft
AS2837/420
Impeller
AS2074/H6B
AS1830/300-17
AS2074/H6B
Shaft Sleeves
AS2074/H6B
Lantern Ring
AS1565/ALLOY 836B
AS1830/T260
AS2074/H6B
Gland
AS1830/T260
AS2074/H6B
Wearing Ring
AS2074/H6B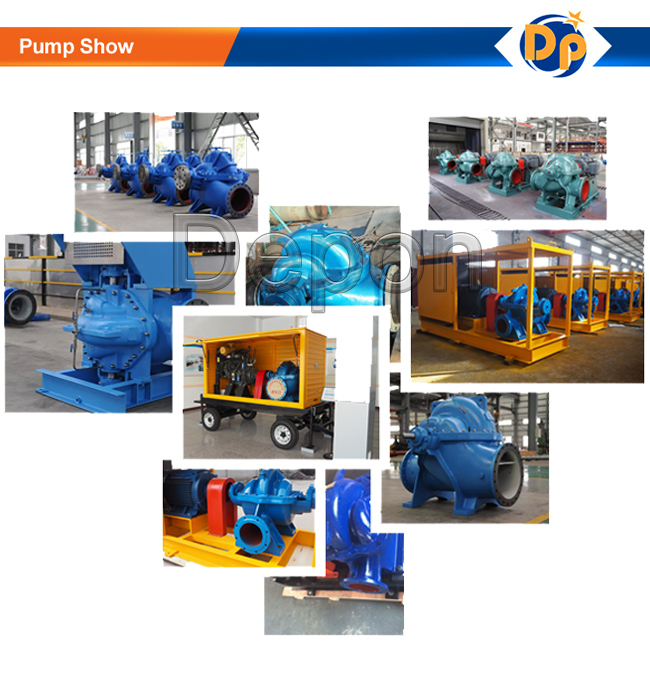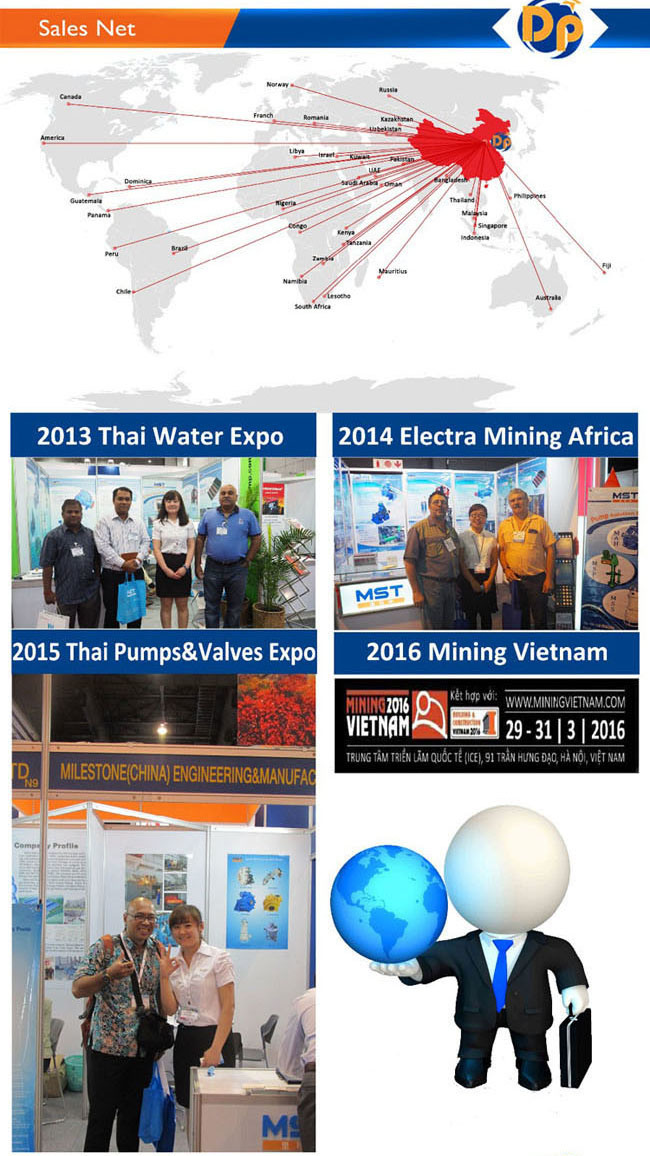 FAQ

A: What kind of company you are?
Q: Shijiazhuang Depon Pump Company is professional manufacturer in pumps. After accumulation and development of many years, we have formed a complete system of pump design, selection, application, manufacture, marketing and maintenance. We have passed CE, SGS certificate. Our customers are at home and abroad. Hope to coorperate with the worldwide friends. 

Q: What's your MOQ?
A: Trial sample order is OK.
 
Q: What are your payment terms?
A: T/T, L/C, D/P, D/A or as customer required
 
Q: How about the warranty?
A: One year warranty for pumps, it depends on other pump working condition details.
 
Q: What is the delivery time?
A: 7-30 days according to customer quantities.
 
Q: Can you do OEM brand?
A: Yes, Welcome.
 
Q: What information should IÂ offer to get pump solution?
1, Head:Â Â Â Â Â m
2, Flow:Â Â Â Â m3/h
3, Max Solid size:Â Â Â Â mm
4, Particle shape (smooth or sharp):
5, Medium pH level:
6,Specific Gravity of the Medium:
7, Temperature:
8, Drive type:
9. Power supply: Electric or Dlesel
10, Voltage and Frequency of the Motor:Â 


Welcome inquiry! 
Contact:Â 
Mob: +86 158 3083 2057
Tel: +86 312 8929296
Fax: +86 312 3085383
 
 

 

Commercial Soup Stove,Stove Top Potato Soup,Chicken Taco Soup Stove Top,Stove Top Chicken Noodle Soup

Guangdong Puda Electrical Appliance Co., Ltd. , https://www.elecapoka.com